EC-Modules
Regular price
€373,75
Sale price
€273,75
Unit price
per
Sale
Sold out
Open the top of your VW EOS with the remote control of your car key
Open the VW EOS top with the remote control - It's that easy! Experience a completely new driving pleasure with your convertible.
All functions can be switched on or off individually and configured according to your wishes.
The convertible top module for your VW EOS offers these functions, among others:
Open and close the roof of your car with the original remote control key!
While the top is opening, you can already get in and drive off!
It is no longer necessary to permanently hold the roof switch in the vehicle.
Opening and closing the SunRoof by remote control.
Opening and closing the windows by remote control.
SpeedX: Open the convertible roof up to a selectable limit speed (up to 45 km/h).
Complete deactivation of the convertible top module possible
When deactivated, the topcomfort™ convertible top module of your VW EOS can no longer be recognized by diagnostic devices
scope of delivery
topcomfort™ convertible top module for VW EOS Cabrio from BJ 2006 Item no. 205001
connection harness
Branch connector various fastening material
Detailed, illustrated installation and operating instructions
Programming overview for topcomfort™ module on separate sheet!
You can download the complete installation and operating instructions here.
Please note that the functions of the topcomfort™ module must be used with the necessary caution and within the framework of the applicable road traffic laws. The module has no ABE
split
Hier klicken
View full details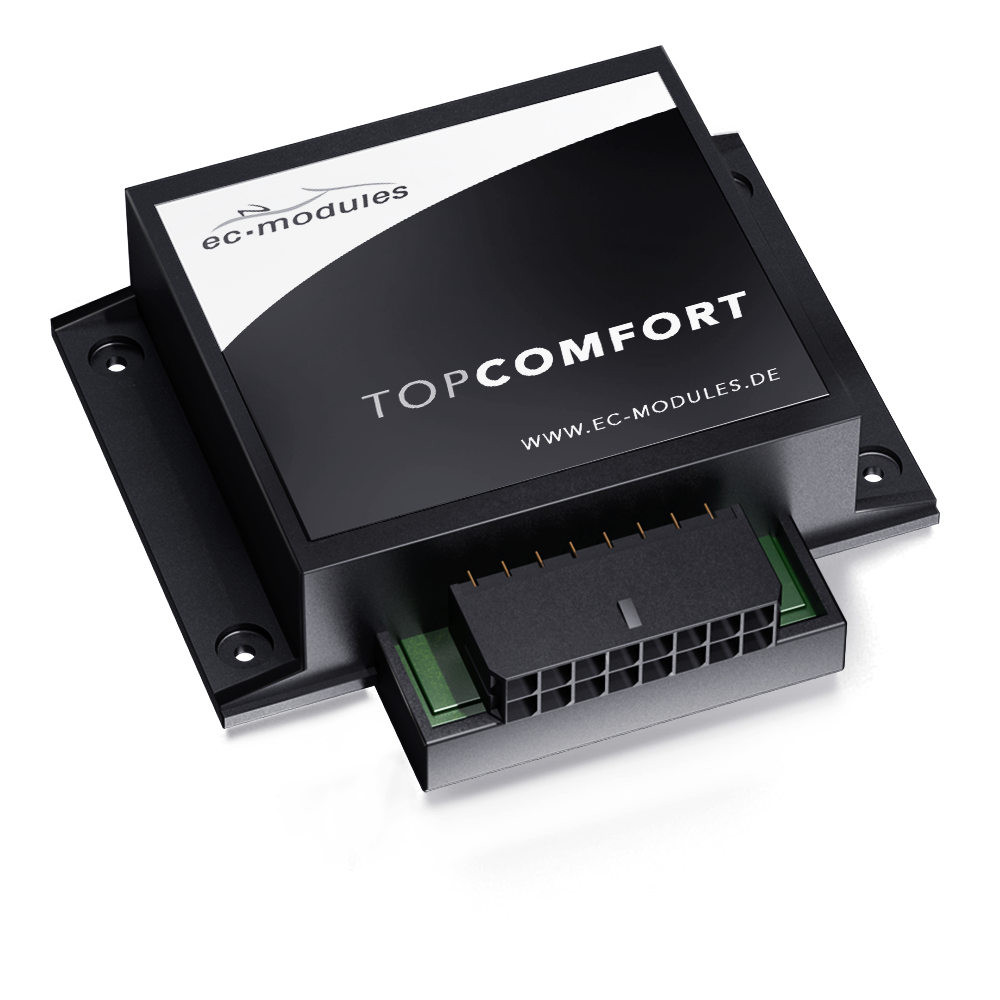 Top
Preis Leistung stimmt hier. Mit etwas Geschick und der detaillierten Einbauanleitung, kann man das Modul selbst einbauen. Für die Installation ist das nötige Material vollständig vorhanden. Bin sehr zufrieden mit dem Modul. Bei schwächer Batterie bekommt meine eine Fehlermeldung mit dem Hinweis: "Werkstatt aufsuchen", einfach das Auto starten und den Schließvorgang auch. Ich kann über meinen Schlüssel beide Türen einzeln entriegeln, seit dem Moduleinbau öffnet sich dadurch auch das Schiebedach in der Standardprogrammierung. Kann man über die Programmierung ändern, geh mir leider er später aufgefallen.
Funktioniert einwandfrei….